(1)
I couldn't believe it, but I got in. After I passed through the immigration gate it felt as if I was in a day dream.
But what has happened to the missing Oliver? I called him on my mobile. Oh, I can get him now . "wow!".
"Oliver where are you!?"
"In Tel Aviv already "
"Un-believable!"
"Please wait and I will pick you up with Elan. I am at Elan's home and can be at the airport in about 30 mins."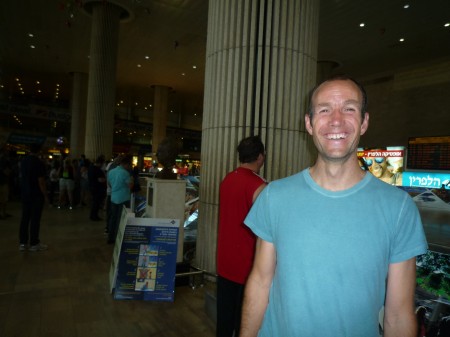 (Got into the Country).
We made it! We met each other with a big smile.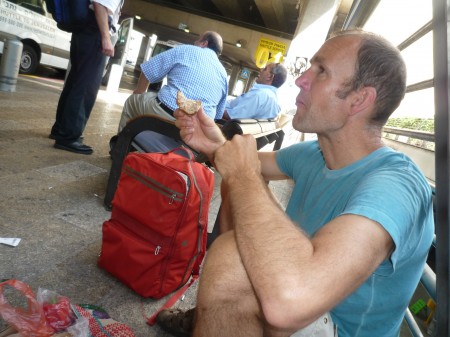 (While waiting for the bus starting , we ate the breakfast which Oliver had bought. Oliver always prepares well.)
I realized that both Oliver and I are great optimists, always crazy and keen with our dream. (This could be the character of a Tao Sangha member ). Any way… We just  want to keep  meeting with people,  anyone who truly wishes  for peace in the Middle East including wishing that all  human beings  to be free . We simply believed that if we talk to people to people sincerely then the Caravan Project will be  realized . Oliver and I, never doubt  this. So, anywhere with anyone who has this  kind of wish in this direction, we were dying  to make contact with.
(2)
Well, I have a great  friend called Alan in Australia, who started his own business from a garage sale and now has many branches overseas. (He is an amazingly generous man) Whenever I tell him that I am going to do something he always says that my optimism is just amazing. I didn't know why he says that???? But  by realizing how  optimistic we are about  the caravan project … just simply believing that  sincere effort  can make this happen,  now I understand what Alan means. But I must say to  Alan "Hey Alan, what else can I do?"
(3)
A Japanese activist woman, Ms Mieko, who is living in Jurusalem  is going to co-ordinate the schedule today for us , which is:
Visiting a refugee camp in Eastern Jerusalem. Now it is Ramadan but if possible we want to give volunteer Tao Shiatsu. We are checking out and preparing for Tao Shiatsu members to do during the Caravan Project  next year.
*Ramadan is a custom of Islam. Even though there is really hot sunshine, for one month from sunrise to sunset people fast, not eating anything. They do this to experience and understand poverty.
2. Meeting  an activist who is elementary  school teacher  who is asking me to do Ki workshop for the children. I  was really wishing to connect  with people who are working in the education field because I wanted to  put pictures from  the children with their  dream for the future  Earth on the Caravan's web site .  I also heard that some  schools in Israel, have "GO workshops " (Japanese traditional strategy game), so I have a dream of a Chari-TX convention together  with Israeli and Palestinian elementary schools, playing together.
3. Join the demonstration to protect  the rights of Palestinians and to free Palestine. Both Palestinian and Israeli activists coming together in a place called Sheikh Jarrah where many Palestinian houses have been demolished  or people have been evicted from their homes where they had lived for forty years. I did volunteer shiatsu to the family who were evicted and sleeping in the streat with Lawrence the last time that I was here. http://endo-ryokyu.com/past_blog/?p=428
We were willing to meet Israeli activist  for the human rights  on this  demonstration to talk with them about next year's Caravan project if they would be interested to coorporate with us.
By the way, every Friday in a famous village called Billin on the West Bank, a non violent demonstration takes place with the whole village . Many international and Israeli activists go there too. The film "5 Broken Cameras", which was nominated for an Oscar, describes this village in a documentary. I have some connection with a photographer and leader in the villedge  so in the beginning I was going to visit Billin and  join the demonstration  but Mieko already had her plan to take us to Shakujara  demonstration and we had no choice.  But the Shakujara demonstration has opened a door for us for the Caravan project.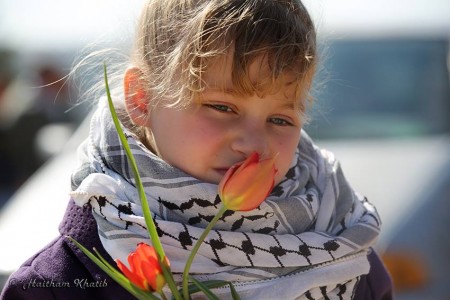 (Photo taken by Haytham in Billin. He always takes great  photographs)
(4)
Because I was delayed by one day, I have to go to Jerusalem directly from the Airport. The Japanese activist woman  Mieko has told me many times that I have to be at the Damascus gate of Jerusalem no later than 12: o'clock because there is a lot to do. We have to hurry and with a lot of effort we can make it. I  was wondering  if we can make it??   Can we?